From September 11th to 24th, Chinese academy of sciences Einstein professor Donald L. Sparks visited China in academic, he gave several different lectures in the Institute of Soil Science, Chinese Academy of Sciences(ISSAS), Nanjing Agriculture University, Institute of Applied Ecology, Institute of Urban Environment, CAS.
During his stay in Nanjing, the ceremony was hold by the Institute of Soil Science. Prof. SHEN Renfang, director of the Institute of Soil Science awarded the Einstein Professorship to Donald L. Sparks on behalf of the Chinese Academy of Sciences. After that Prof. Sparks gave a lecture titled 'The Critical Role of Soil Science in Addressing Global Environmental Challenges'. More than 300 researchers and students witnessed the ceremony. During his visiting, a small workshop on CZO (Critical Zone Observatories) was held in ISSAS, Scientists in soil science and environment science attend this meeting. And Prof. Sparks introduced the advances of research on CZO which would help us to launch the research of CZO in China.
A agreement for the future cooperation on soil environmental science was signed between the Institute of Soil Science and Delaware Environmental Institute, the University of Delaware.
About Donald L. Sparks
The S. Hallock du Pont Professor of Soil and Environmental Chemistry and director of the Delaware Environmental Institute at the University of Delaware.
Since joining the UD faculty 31 years ago, Sparks has created an internationally prominent graduate program in environmental soil chemistry in the College of Agriculture and Natural Resources. He has authored 284 scientific publications and three textbooks, mentored 54 graduate students and 25 postdoctoral researchers, and served as an invitational speaker at 84 universities and institutes on four continents. He served as chair of the Department of Plant and Soil Sciences for 20 years.
Sparks' research focuses on how toxic metals such as arsenic, nickel, and zinc and plant nutrients such as phosphorus and sulfur are bound by soil particles and under what conditions the toxins or nutrients may be released into water supplies and become available to plants, animals and humans. He has been one of the leaders in employing synchrotron-based techniques to elucidate metal reaction mechanisms at soil and mineral surfaces. The results of his studies are useful in developing strategies for remediation of contaminated soils.
He has successfully competed for more than $31 million in research contracts and grants and won numerous awards and honors, including the University's highest academic recognition, the Francis Alison Award in 1996. He was named Distinguished Professor in 1994 and S. Hallock du Pont Endowed Chair in 2002.
Most recently, in August 2010, Sparks received the Liebig Medal from the International Union of Soil Sciences (IUSS) for his outstanding contributions in soil science research. He served as president of the IUSS from 2002 to 2006.
Sparks is also highly regarded as a graduate student mentor. He was the first recipient of the UD Doctoral Student Advising and Mentoring Award, and in April 2010, he received the Geoffrey Marshall Mentoring Award from the Northeastern Association of Graduate Schools. His students have gone on to earn many accolades of their own, including three Presidential Early Career Awards for Scientists and Engineers, the highest honor in the U.S. for beginning scientists and engineers.
Sparks is also the recipient of the U.S. Department of Agriculture's Sterling B. Hendricks Medal, a McMaster Fellowship from the Australian Commonwealth Scientific and Research Organization (CSIRO), the Soil Science Research and M. L. and Chrystie M. Jackson Soil Chemistry/Mineralogy Awards, and the Environmental Quality Research Award. He also is an ISI Highly Cited Researcher.
Sparks is a fellow of the Soil Science Society of America, the American Society of Agronomy, the American Association for the Advancement of Science, the Geochemical Society and the European Association of Geochemists. He serves on the editorial boards of seven soil science, environmental science and geochemistry journals.
About the Einstein Professorship Program
The Einstein Professorship Program is initiated by the CAS in 2004. Einstein Professorships will be awarded each year to 20 distinguished international scientists actively working at the frontiers of science and technology, for conducting lecture-tours to China. It aims to strengthen science and technology links, cooperation and exchange between CAS scientists and respective Einstein Professors and their laboratories, and enhance the training of future generations of scientists in China.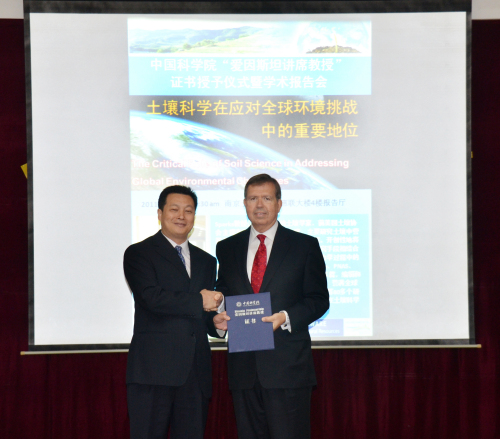 Dr. Renfang SHEN awarded the certificate to Prof. Donald L. Sparks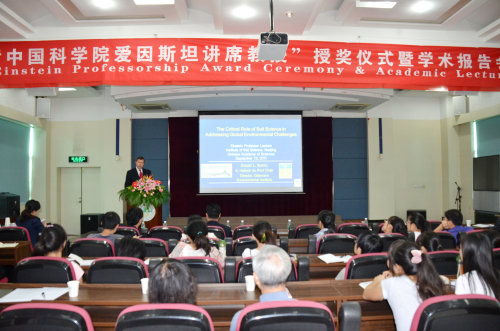 Prof. Donald L. Sparks