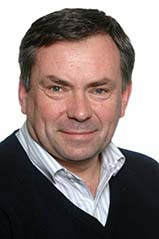 Prof.Colin Murrell
Professor Colin Murrell from the University of East Anglia was awarded The CAS President's International Fellowship for Distinguished Scientists in 2015. Prof. Murrell is a world renowned scientist with outstanding scientific accomplishment in the fields of microbiology and microbial ecology. Prof. Murrell has pioneered the development and use of DNA stable isotope probing techniques, which is now cited in the biology textbook Brock Biology of Microorganisms, to help determine "which microbes are doing what in the environment", particularly in the context of global biogeochemical carbon, nitrogen and sulfur cycles. Over the past thirty years, Prof. Murrell has led numerous multidisciplinary research projects at the physiological, biochemical, molecular and ecological levels. He has published around 250 publications and six edited books (ISI data: ~236 journal articles, ~9,300 citations, h-index 51; ISI Web of Knowledge Researcher ID: www.researcherid.com/rid/B-1443-2012). Prof. Murrell is also a frequent reviewer and serves as reviewer or editorial board member for peer-reviewed journals including Nature, Science, PNAS, The ISME Journal, Environmental Microbiology, Global Change Biology and Molecular Microbiology.
Prof. Murrell is founding Director of the Earth and Life Systems Alliance on the Norwich Research Park at the University of East Anglia. He is Chair for the world famous Gordon Research Conference on Applied & Environmental Microbiology 2015, and has organized/co-organized Gordon Conference three times (2000, 2002 and 2013). He is also Vice President of International Society for Microbial Ecology 2014, and was elected Member of the European Molecular Biology Organisation in 2014. Prof. Murrell considers training of young scientists as one of his most important roles in research. He has had around 48 PhD students graduate from his laboratory and has supervised around 100 postdoctoral fellows, technicians and visiting researchers from over 25 different countries. Many of his students and postdocs have gone on to forge successful careers in environmental microbiology in for example the UK, France, Germany, Ireland, Norway, Portugal, USA, Canada, Australia, New Zealand, China, Egypt, Bangladesh and Saudi Arabia. The CAS Distinguished Scientist award to Prof. Murrell will enhance the training of future generations of scientists in China.
The CAS Distinguished Scientists program was initiated by the CAS in 2014 (former CAS Einstein Professorship) for foreign scientists with outstanding scientific accomplishment. It aims to strengthen science and technology links, cooperation and exchange between CAS scientists and respective CAS Distinguished scientist and their laboratories, and to enhance the training of future generations of scientists in China. The award is invited to visit at least two CAS-affiliated institutions (research institutes or universities) to lecture and interact with CAS researchers and postgraduate students. He or she is also expected to host CAS postdoctoral researchers at CAS expenses at his or her lab for a research stay of 1-3 months.